Unlocking the biodiversity-climate nexus
A guide for financial institutions on managing the biodiversity and climate nexus in their investments and lending. It outlines the synergies and trade-offs between climate and nature of a sample of investment/lending solutions that are, as of today, key to solving the nature and climate crises we face: agricultural solutions, alternative energy sources, circular economy and Nature-based Solutions (NbS).
Read the report here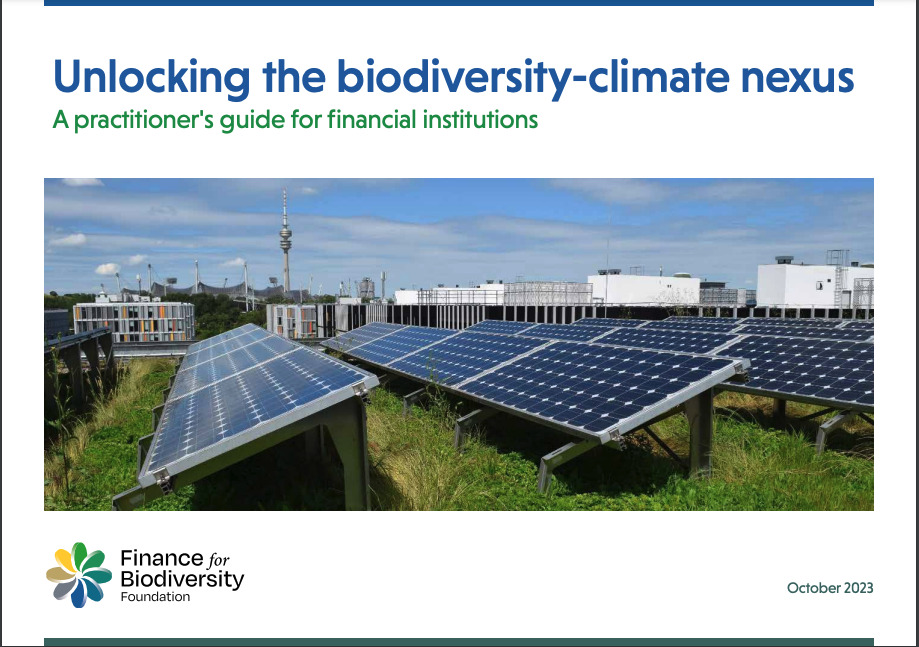 Five key recommendations
In the guide five key recommendations are described on how financial institutions can include biodiversity into climate strategies:
Finance synergy-generating solutions for the biodiversity and climate nexus and those minimising trade-offs (e.g. R&D, start-ups, innovation);
Identify and prioritise sectors with a high impact on biodiversity and climate;
Engage with companies on important nexus topics by leveraging relevant and existing frameworks;
Set up sector policies, taking into account synergies and trade-offs between biodiversity and climate; and
Integrate biodiversity into climate targets, policy and reporting.
Addressing nature and climate solutions in an integrated way can be seen as a fundamental risk management approach.
The guide says that "the most common trade-offs of nexus themes such as Nature-based Solutions, alternative energy, regenerative agriculture and circular economy solutions can already be avoided by changing the way these projects are undertaken".
"By using renewable energy to power solutions, taking a results-based approach and considering the impact of activities on both climate and nature at every step, financial institutions can help mitigate trade-offs and exploit synergies," the authors write.
Read the report here